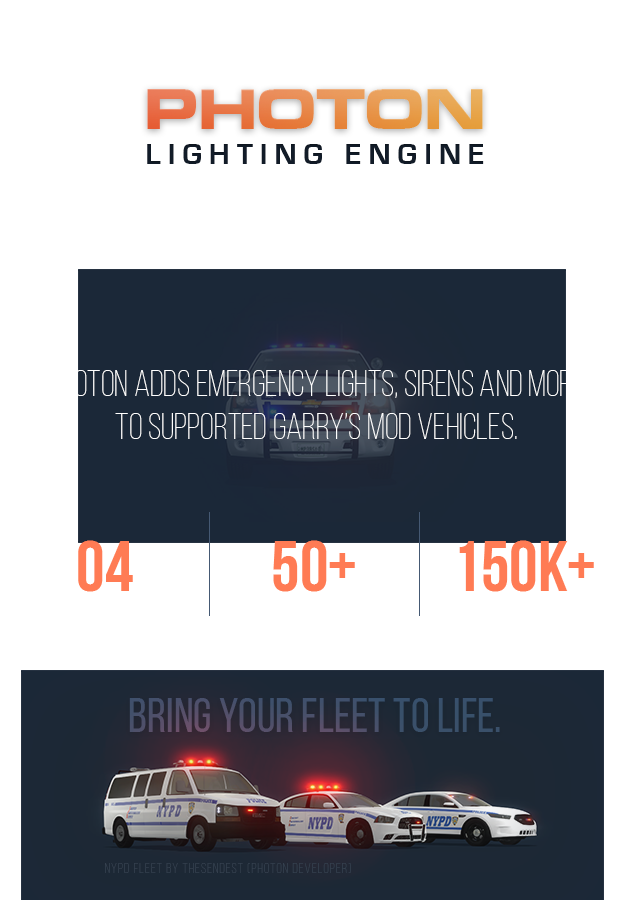 Photon is to designed to add authentic emergency vehicle functionality to specific vehicles along with support for basic vehicle lighting on supported cars.
This addon is the engine (base) only.



Photon is a base engine to power advanced emergency vehicle and law enforcement functionality for vehicles in Garry's Mod.
Photon will only apply to cars you have installed. No cars come with this addon. Any supported cars will automatically have vehicle lighting applied.
The look, performance and behavior of third-party Photon cars are the sole responsibility of their developer. Photon is only a tool that enables certain functionality. How cars look is largely dependent on their developer.
Cars that feature a "Photon Official" badge on the icon are made by me (Schmal) and all techniques used in their creation are open to the public domain.

Errors have largely been fixed over Photon's several month history. If errors do suddenly occur, please check the following:
1. Was there a recent Photon update? Major release updates generally entail a few hidden bugs, so feel free to report them!
2. Installed any Photon cars recently? Check if uninstalling the specific vehicle corrects the error, or simply try resubscribing to the addon to remount it.
3. Do you run any additional advanced addons or custom code? There could be a conflict. If you find one, feel free to bring it up.

Car Lighting
*
- Running lights (head and tail lights)
- Brake lights
- Reverse lights
- Turn signals/hazards
*(basic vehicle features are not necessarily a target focus, so support is typically very limited)
Emergency Lighting Development Features
- Realistic light behavior
- Support for rotating, pulsing or flashing lights
- LED, soft and cold halogen lighting
- Red, blue, amber and white and green LED colors
- Extensive brightness adjustment support
- Support for pulsing wig-wag lights, tail light hideaways, etc.
- Override any standard car light
Scene Illumination
- Independent switch for optional vehicle lamps (such as police takedowns or fire scene lighting)
Traffic Advisor/Auxiliary Lighting
- Control traffic advising functions independently of primary emergency lights
Emergency Sirens
- Over 40 different authentic international siren models (typically complete with wail, yelp, phaser and hi-lo tones) that can be selected and adjusted ingame.
Many popular and common tones based on real models from companies such as:
- Federal Signal
- Whelen Engineering
- Code 3
- Feniex Industries
- SoundOff Signal
- D&R Electronics
Also tones found internationally, from countries such as:
- Canada/Quebec
- France
- Austria
- United Kingdom
- Norway
- Sweden
- Switzerland
- Denmark
- Finland
- Germany
- Australia
Vehicle HUD
- Design inspired by the Whelen CenCom control panel
- Primary and auxiliary warning with light-stage meter
- Sirens with respective icons to represent perceived sound waveform
- Scene illumination/takedown section on supported cars
- Additional vehicle features
Vehicle Variant Support
- Extensive creation freedom when creating your own vehicles
- Modify a car to look however you want
- Specify skin, bodygroups, colors, etc. to apply as soon as car is spawned
Addon Props
- Place any prop to spawn on vehicle such as a lightbar, bumper, module, etc.

ALL CONTROLS ARE ADJUSTABLE IN-GAME IN THE UTILITIES MENU
Default controls:
Lights on/off:
F
Siren on/off:
R
Change light stage:
Left-Alt
Change siren tone:
Right-Click
Manual Siren/Alert Mode:
T
Bullhorn:
G
Auxiliary Lighting:
B (short press for on/off, long press and release to change pattern/stage)
Illumination:
X (short press for on/off, long press and release to chance mode)

Read this Facepunch release thread for developer information

Photon is multiplayer compatible with growing feature support. Default Photon specifications will apply to all supported cars that do not have a .VehicleTable property appended.
If you wish to use a custom Photon car, you will likely need to modify your spawn code.

Several people have suggested selling this script. While I am sincerely humbled and appreciate their thoughts, I think it would go against the spirit of creativity. Seeing people, use, share and modify my work is worth more to me than I would get out of selling something because there is a market.
If you have money that you wish to spend on this, please consider donating it to one of my favorite charities instead:
American Red Cross
Brain and Behavior Research Foundation
Autism Speaks
Photon is not a job nor a stepping stone, it's a product of my collective passions. I work a day job and come home to do something I truly enjoy. Money is an unfortunate requirement for people, but Photon is powered with love, not profit.
If you truly enjoy Photon, the greatest thanks to me would be for you to help those less fortunate in your own community.

Assets and inspiration are due to so many incredible people.
Everyone who has contributed or authored ported assets are credited at: https://photon.lighting/wiki/index.php?title=Credits

This addon is officially dedicated to all emergency service personnel across the world.
Those who take an oath and an underpaying job to answer cries for help. Those that have to worry about making it home. And those who made the ultimate sacrifice in the greatest honor of public service.
Also to my dad, my hero.
DISCLAIMER
Photon is not endorsed nor in any way affiliated with companies or products named in this addon. The usage of trademarked product names are strictly for non-commercial entertainment purpose and should
not
be viewed as official or accurate depictions of real-world products.
All opinions or views otherwise expressed in this addon have absolutely no relation to any other product or brand name whatsoever.
Their usage is strictly for personal enjoyment, created by hobbyists and fans of emergency equipment.
All product depictions should be viewed as purely fictional and not representative of the respective companies and products.